The Permian Basin's Production Benefits Permeate Throughout Texas
President Donald Trump will visit an oil rig in the Permian Basin this afternoon and is expected to discuss how smart regulations, permit streamlining and private investment in energy infrastructure has helped fuel America's energy revolution. If you're planning on covering the trip today, I've put together a brief primer to help provide additional context that covers the environmental impact of permit streamlining, private investments in oil and gas development, and the benefits of natural gas and oil production for Texans.
The Environmental Impact Of Permit Streamlining
Methane emissions relative to production fell by nearly 45% in the Permian Basin even as natural gas production skyrocketed 170% from 2011 to 2018. And the recently streamlined permitting process could help further reduce methane emissions relative to production in the Permian. As the Department of Energy notes in its 'Texas Natural Gas Flaring' fact sheet:
"Increases in domestic oil and natural gas production have resulted in significant infrastructure buildouts, however, natural gas pipeline capacity constraints have led to regional increases in the flaring of associated gas in some unconventional plays (e.g., Permian Basin in Texas…"
Developing additional pipeline infrastructure could help reduce flaring in Texas, decreasing methane emissions while also enabling producers to sell the natural gas they otherwise would have flared, generating tax and royalty revenue for the state.
As the DOE notes in its fact sheet, "The RRC reports that operators make [flaring] extension requests most often when they are awaiting completion of pipeline construction." In other words, quicker pipeline construction should mean less flaring extensions, and that would mean less methane emissions.
Lastly, as the AP noted today in its coverage previewing the president's trip:
"Frank Macchiarola, the trade group's senior vice president for policy, said emission rates in the Permian Basin have fallen despite what had been the surge in production. It 'demonstrates how the industry is meeting this challenge and strengthening its environmental performance,' Macchiarola said."
Private Investments In Oil And Gas Development
In 2019, major oil companies were reported to have invested more than $10 billion in the Permian Basin alone. Nationwide, the U.S. natural gas and oil industry is in the process of constructing around $344 billion in new capital projects according to pre-COVID-19 API estimates, and potential investments in energy-related projects have been estimated at more than $1 trillion over the next 15 years.
Private investment along with technological innovation has helped spur America's energy revolution, enabling the Permian Basin to produce more oil than the Ghawar in Saudi Arabia, the Saudi's largest field.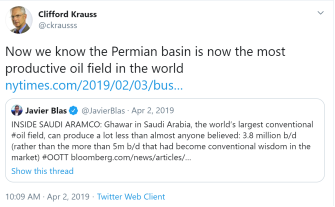 In fact, this one production basin alone generates more oil than all of OPEC's 13 member countries except Saudi Arabia and Iraq.
Certainly, some natural gas and oil companies – like many other industries currently – are confronting the financial uncertainties of a pandemic-induced economic downturn, however, major oil companies "will continue to invest during the down cycle, especially those with long-term projects such as deep-water drilling in the Gulf of Mexico where the payout period is typically decades instead of a few years."
The Benefits Of Natural Gas And Oil Production For Texans
The Texas Oil and Gas Association reported that in 2019, the industry directly employed 428,234 Texans, and industry employers in Texas payed an average of $125,248 per job – more than double the average of other private sectors. And it's not just industry employees that are benefiting from natural gas and oil production.
The natural gas and oil industry in Texas generated $16.3 billion in taxes and state royalties in 2019 – more than $44 million per day. Natural gas and oil companies contributed more than $149 billion in revenues since 2007, which helps fund the state's education system, build roads, and improve healthcare facilities.
However, it's important to note that policy proposals seeking to constrain natural gas and oil production could jeopardize these important tax revenue streams for production states like Texas.