Biden's Energy Plan Escapes Tough Scrutiny
Axios' Mike Allen wrote yesterday that former Vice President Joe Biden has received "shockingly little scrutiny," saying he is the "least scrutinized frontrunner" and "has yet to be pinned down on an array of legitimate questions." No doubt that many would dispute Allen's assertions, but the lack of scrutiny of Biden's climate and energy plan has allowed the reality of these proposals to fly under the radar. With just weeks until election day, the Washington Examiner's energy & environment reporter, Josh Siegel, notes that many have underestimated the implications of Biden's federal drilling ban.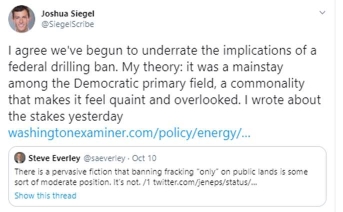 A recent study on a federal leasing and development ban found that nearly one million jobs could be lost by 2022, U.S. residential consumers could spend a cumulative $19 billion more on energy by 2030, and the U.S. GDP could decline by a cumulative $700 billion by 2030.
READ MORE: Ban On New Federal Development Would Risk U.S. Security, Jobs, Environment
This lack of scrutiny is not unique to Biden's federal drilling ban either. Biden frequently touts his plan to transition the U.S. to 100% clean energy by 2035, and reporters covering Biden on the campaign trail will often include this pledge without providing any context pushing back on the feasibility of this goal. Afterall, Biden's plan allots just 15-years for transitioning the whole nation. For comparison, California's transition to clean energy has been ongoing longer than 15-years, and even with the additional time and smaller scale, the state was recently plagued by blackouts.
READ MORE: California's Blackouts Spell Trouble For Biden's Clean Energy Overhaul
If Biden discusses his climate/energy plan at the ABC townhall tonight, or on the campaign trail going forward, reporters may want to delve into whether Biden's lofty energy proposals are accompanied by any details on how he'd actually achieve it, and what impacts his plans may have that he is omitting. As was recently noted in RealClearEnergy, "Flashy spending targets and en vogue nomenclature are an unsustainable alternative to detailed policy… The problem with these lofty ambitions is that they are often vague, and sometimes outright misleading."